Chair of the Year 2016 i Danmark, Bert Nordberg, Vestas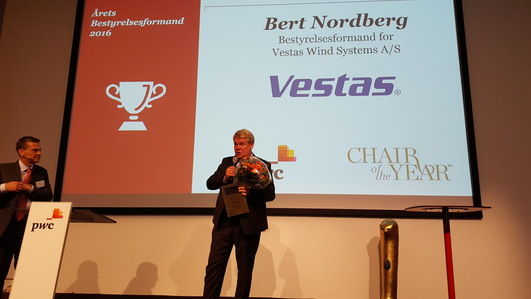 For 10. gang ble Årets Bestyrelsesformand kåret i Danamrk. På grunn av nytt kriterie at vinneren kunne komme fra et nordisk land, ble det svenske Bert Nordberg, Vestas Wind Systems a/s.
Han har skapt meget store verdier for eierne ved at aksjekursen har blitt 13 ganger større enn når han overtok. Dette skyldes nye styremedlemmer med den rette kompetanse og ny CEO.
Vinner med jury fra høyre: Martin Jes Iversen - CBS, Anne Broeng - profesjonell, juryformand Ole Andersen (vinner 2015) Chair of the Year Danmark Bert Nordberg, Gunnar Eckbo. Ikke tilstede Agnete Raaschou-Nielsen - bestyrelsesformand Brdr Hartman. Fra Pwc Brian Christiansen data tilrettelegger nr 2 og Mogens N Mogensen til venstre.