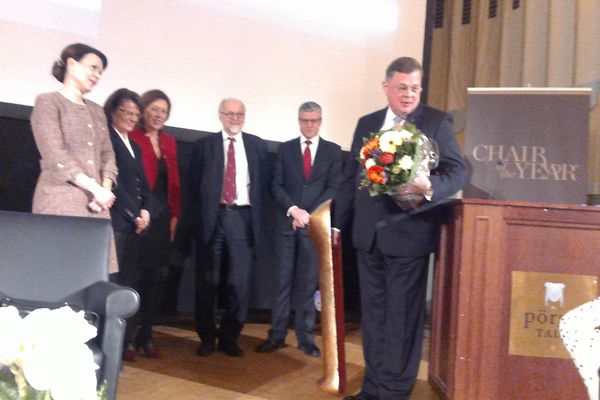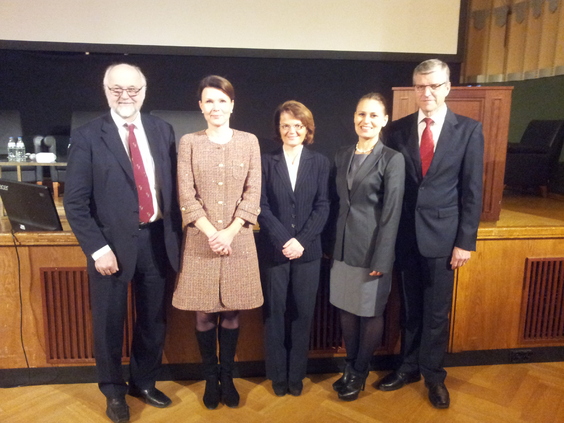 Juryen som har arbeidet med å finne vinneren fra venstre Petteri Walldén, Raija-Leena Hankonen KPMG, Marina Vahtola, Sari Lounasmeri, Simo Palokangas
På et seminar i Helsinki 22. januar ble vinneren kåret.
Bakgrunden till utnämnandet av Kari Jordan var hans insatser som styrelseordförande för Metsä Board Oyj. Metsä Board har utvecklat sig från ett krisbolag i sin bransch till att bli ett ledande och finansiellt stabilt bolag mellan åren 2005-2014. Kari Jordans arbete som styrelseordförande för Metsä Boards styrelse samt för att förnya bolagets strategi har varit betydande.
Styrelsen har lyckats framgångsrikt i strategin att förena branschens kärn kompentens samt branschens framtida syn på utveckling mot en starkare ekonomi och finansiering. Det som speciellt legat som bakgrund till Kari Jordans utnämnande har varit hans förmåga att samtidigt som bolaget har gått igenom ett omfattande saneringsprogram så har han haft förmågan utveckla Metsä Boards till ett innovativt bolag och en föregångare i sin bransch. Kari Jordan är en respekterad beslutsfattare i näringslivet, som förespråkar och agerar för den finska arbetskraften och industrins bästa.
Metsä Board is Europe's leading producer of fresh forest fibre cartonboards, the world's leading manufacturer of coated white-top kraftliners, and a market pulp supplier.
They offer premium solutions for consumer and retail packaging and graphics. Our sales network serves brand owners, carton printers, corrugated packaging manufacturers, printers and merchants. In 2013, our annual sales totalled EUR 2.0 billion. We have production units in three European countries and about 3,100 employees.
Metsä Board is part of Metsä Group, one of the largest forest industry groups in the world, and is listed on the NASDAQ OMX Helsinki Ltd.
Metsä Board's strategic transformation from a paper company to a paperboard company has been successful.
Metsä Board continues to grow its paperboard business together with its customers in Europe, and aims for accelerating growth in Asia and especially in North America. Population growth and urbanisation are increasing demand for consumer goods globally. Ecological aspects and product safety is taken into consideration in the whole product supply chain. Metsä Board's modern, safe and ecological folding boxboards and kraftliners replace traditional packaging materials and offer an excellent way for consumer goods companies to enhance sales and sustainability. The role of global brand owners is still increasing and Metsä Board expands cooperation with them.
High self-sufficiency in pulp and energy, high productivity and its continuous improvement as well as skilfull personnel are significant competitive advantages for Metsä Board.
Thank you speech of the winner: Video look here (in Finnish)