Winners in the Nordic countries
Lene Skole was recieving Womens Board Award 2015 in Denmark by Crown Princess Mary
The jury's reasoning:
It is with the greatest pleasure and honor that we will present the Women's Board Award 2016 to a woman who is a role model for future board members and leaders - of both genders.
The jury explains the choice with the following words, among others has been obtained by the chairmen of the boards where the award winner is a member:
The award winner is both analytical and articulate in the board.
She is always incredibly well prepared and proactive.
She has the courage to say what she thinks, and also points to the sore points - in a constructive way.
In other words, she has a 'no nonsense'- personality that is both likeable and respected. Especially, because she is a strong coach and a good communicator.
This year's winner has a broad professional profile that matches the global world we are a part of. Based on her financial background and extensive experience in HR, strategy, IT and general management, she has continuously expanded her responsibilities and has insight into every aspect you have to deal with as chairman. The evaluates at the same time that she has the tools needed to navigate in a variety of professional contexts - both in types of business, legal forms of enterprises, industries and cultures.
The winner of the Women's Board Award 2016, has an exciting career path, which in the board part certainly has not yet reached its peak. With her experience from CFO roles in A. P. Møller Maersk Group, and subsequently as a central part of the Executive Board of Coloplast, she is, in combination with her current role as CEO of the Lundbeck Foundation, her undisputed competence and - not least - her appealing character, extremely well suitable to occupy board seats on the highest level.
Something following committees are currently benefiting from:
Tryg
ALK-Abelló
H. Lundbeck
Falck
and DONG Energy.
The jury of the Women's Board Award wishes to give the award winner their highest recommendations as future chairman:
Gisele Marchand received the prize The Board Award (for women and men) in Norway.
Haavind's CEO Gisele Marchand was given The Board Award. The leader of the jury, Diderik Schnitler, expects to see her as chair of a larger company within a short time.
Marchand has been noticed in the boardroom a long time. She often takes the lead in strategic issues and has a good overview of the control side of the work of the board. Furthermore, she is a fearless person, open, reliable and good at involving all the colleagues. We believe that Marchand is very well suited to a demanding chair position of a larger company, says Leader of the jury Diderik Schnitler.
Wednesday afternoon was the price - The Board Award - awarded by the consulting company Bene Agere. The price is closely related with the "Chair of the Year"-award, and both prices aims to highlight the value of excellent board work. A number of industrial tycoons have now designated Marchand to be the board member with the greatest potential to be the best chair.
Through interviews with the jury and me uncovered Marchand a confidence and degree of judgment that impressed us. She placed particular emphasis on how to utilize the overall board expertise through active participation partly through committee work and in plenary sessions, says Schnitler.
Marchand started in DNB and has had CEO positions in Batesgruppen, State Pension Fund, Eksportfinans, and is currently CEO of Haavind an attorney company. She is a board member in Gjensidige Forsikring, Norway Group, Eiendomsspar and Selvaag Bolig.
Norwegian industry is in a period affected by a need of tough restructuring and fierce competition in international markets, and this situation makes the boards more important than ever. Throughout her career, Marchand has led a number of major change processes and dealt with crises and challenging situations of various kinds both as chief executive officer and as a board member, says Schnitler.'
Winner Women's Board Award 2015 in Sweden Lilian Fossum Biner.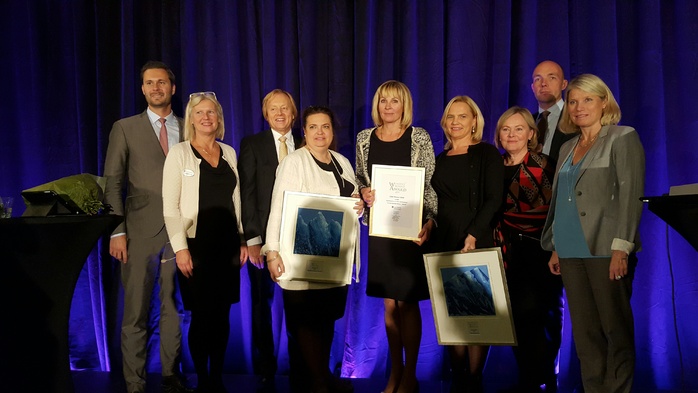 In the picture from left, jury and the three nominees: Rasmus Nygård in AIG, Lena Møllerstrøm Nording in Grant Thornton, Gunnar Eckbo, Signhild Arnegård Hansen, Lilian Fossum Biner, Pia Rudengren, Anitra Steen Chair of the Year Sweden, Magnus J Johansson in Ministry of Finance and Marianne Dicander Alexandersson, Womens Board Award 2014: (Sven Hagstrom is not present in photo)
The Prize Women's Board Award with the potential to become chairman of the large companies of SEK 700 mill in turnover goes to Lilian Fossum Biner, MBA, former CFO Axel Johnson, Senior VP HR and CFO Electrolux, Spendrups.
The jury's reasoning:
"A strong leader with international credentials, as CFO as well as other business leading roles in several of our Swedish national jewels. More than fifteen years of board experience in Swedish and international large corporations and broad experience that covers several sectors, listed companies, state and family-owned companies and operational leadership roles in the majority of areas of operation. Her focus on leadership has made her a clear, responsive and valued manager and she will be a valuable support for the CEO in her role as Chair. " says jury leader Lena Möllerström Nording.
After the prize ceremony she has been elected to Chair in Cloetta (sales € 600 millions) board member in LE Lundbergföretagen, Thule, Nobia, a-connect AG, Oriflame Cosmetics and Givaduan S.A. in Switzerland,
Womens Board Award 2016 winner in Finland and the winning finalists
The three winning finalists – Hille Korhonen, Kirsi Komi and Satu Huber, were selected from a range of nominees identified by WBA Partner, executive search company Alumni Harvey Nash and the WBA jury – Esko Aho (Head of the Jury), Sari Baldauf, Paula Salovaara, Aaro Cantell, Timo Ritakallio and Gunnar Eckbo.
According to Esko Aho, all three finalists should be seen as winners. "The jury view is that Hille Korhonen, Kirsi Komi and Satu Huber all possess the experience and skills required from a Board Chair. We chose to give the price to Hille Korhonen due to her vision regarding the role of the Board. Hille Korhonen has a comprehensive understanding of how the Board should react to changes in the operational environment. She also encourages the sharing of conflicting views, and is able and willing to use the competence of all board members."
Following the win, Hille Korhonen gets to participate in a three-day board programme "Leading from the Chair" at INSEAD – one of the world's leading graduate business schools – together with the WBA winners from Denmark, Norway and Sweden. The program focuses on effective board leadership and the exchange of best practice between highly experienced peers from all parts of the world.
Hille Korhonen was very honored about receiving the award, and wanted to encourage women to "say yes" and pursue new challenges. "You will never be "fully ready" as a business executive or a board professional. Being passionate about strategy and the industry that you work in, and at the edge of your capabilities is in my experience the best way to learn."
The vision and background of Women's Board Award
Even if more than 30 % of board members in larger Finnish companies are women,[1] very few Board Chairs are female. [2] The purpose WBA is to give spotlight to female Board Chair candidates in order for election committees and other relevant stakeholders to see that that the pool of female candidates ready to take Chair responsibility in larger companies may be larger than we think. Ultimately, the target is to support the development of board competence.
WBA was initiated in Norway in 2010, and has since then become an established tradition also in Denmark and Sweden. "The need to establish WBA emerged, when I noted that there was a lack of female candidates for the Chair of the Year award.[3] The vision of Women's Board Award is to increase boardroom competence in the Nordic countries and to highlight women who have the potential to take board chair positions in larger companies. WBA nominees are women that possess top-class leadership skills and considerable experience as board members and executives in companies with revenues above €100 million", says Board Expert, Creator and Owner of WBA Gunnar Eckbo.
Hille Korhonen; Lic. Tech., Helsinki University of Technology.
She is today CEO at Alko and Board Member at Ilmarinen Mutual Pension Insurance Company, Finnish Commerce Federation as well as Nokian Tyres. She is also Delegation Member at Savonlinna Opera Festival, The Finnish Institute in Rome as well as Helsinki University of Technology and Advisory Board Member at Tampere University of Technology.
Previously, she has held the positions of Vice President of Operations at Fiskars Group, Director of Operations at Iittala and Director of Supply Chain at Nokia.