Chair of the Year 2016 in Finland
Winner Jorma Eloranta, Neste Corporation
Press release January 12th, 2017
Jorma Eloranta elected Chair of the year 2016 in Finland (10 years anniversery)
Chair of the board of Neste plc, Jorma Eloranta, was awarded as Chair of the year 2016 in Helsinki. The awarded chair is selected from among the Finnish listed companies. Eloranta accepted his award in the Chair of the year 2016 –seminar in Helsinki Stock Exchange building in January 12th, 2017.
Chair of the year is a Nordic prize awarded annually to the best Chair of a board in each Nordic country. The best of the winners is selected as the Nordic Chair of the Year later in 2017. The award was created by Styreinformasjon in Norway in 2000 and 2007 in Finland.
Jorma Eloranta was awarded based on his strong financial success as the chair of the board of Neste. Neste shows solid financial key measures over several years. The company's market value has developed positively over long term. The company has actively developed its operations and has become a world-class player under Eloranta's lead. Neste has gone through an international transformation. Jorma Eloranta has been the Chair of the board of Neste since 2012. Eloranta is also the Chair of the boards of Suominen and Uponor as well as the Vice Chair of Stora Enso and a board member of Cargotec.
Eloranta is an active influencer in the society. He has a wide network. Eloranta has functioned as a reporter for a minister. He has developed board work in an important manner e.g. in his previous role as the Chairman of the Directors' Institute in Finland.
Chair of the year 2016 in Finland was selected by a jury. The Chair of the jury was CEO of Pörssisäätiö (Finnish Foundation for Share Promotion) Sari Lounasmeri and the jury members were the previous winner, Chair of the year 2015 and Chairman of the boards of Sampo, Nordea and UPM, Björn Wahlroos, Chair of the year 2011 and Chairman of the board of Nokian Tyres Petteri Walldén, CEO of Signe och Ane Gyllenbergs stiftelse Jannica Fagerholm, director general Eero Heliövaara of government ownership department, and CEO of Ilmarinen Timo Ritakallio. Partners for Chair of the year are KPMG, Alumni Harvey Nash and Merilampi Attorneys.
Chair of the year is a concept by Styreinformasjon A/S.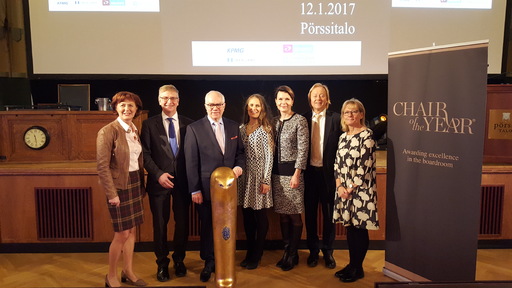 In the picture from left: Jannica Fagerholm, Eero Heliövaara, winner Jorma Eloranta, chair of jury Sari Lounasmeri, Raija-Leena Hankonen, founder Gunnar Eckbo, Jaana Laine-Richter.
At the Pörssitalo 150 persons started mingling with a breakfast and then continued to inspiring speeches of Björn Wahlroos, Chair Sampo and Risto Siilasmaa, Chair Nokia.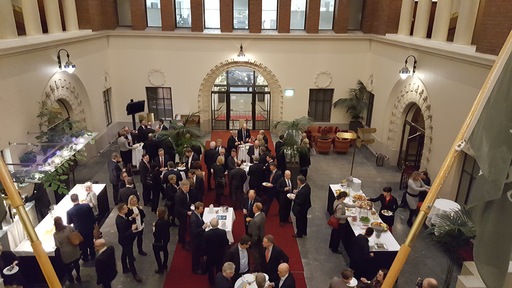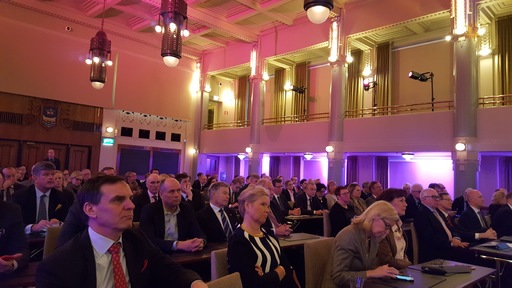 MTV3: http://www.mtv.fi/uutiset/kotimaa/artikkeli/kiusaamista-ja-juridista-saivartelua-sipilalle-nimekas-puolustaja-yrityselamasta/6261938
Press articles:
Kauppalehti:
http://www.kauppalehti.fi/uutiset/jorma-elorannasta-vuoden-hallituksen-puheenjohtaja/j2qRpbni
Arvopaperi:
http://www.arvopaperi.fi/kaikki_uutiset/jorma-elorannasta-vuoden-hallituksen-puheenjohtaja-6614408
Talouselämä 5 pages:
http://www.talouselama.fi/uutiset/hallitustyosta-palkittu-jorma-eloranta-nyt-tarvitaan-johtajuutta-luovuutta-ja-visioita-jotta-saadaan-kasvua-6614346