Antti Herlin
Chair of the Year 2012
Det er 5. gang prisen deles ut i Finland og juryen valgte som Årets styreleder Antti Herlin i Kone Oyj.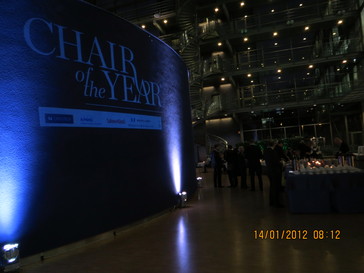 Begivenheten fant sted i de flotte lokalene til Ilmarinen i Helsinki med 130 personer til stede og det var Minister Jan Vapaavuori som delte ut prisen.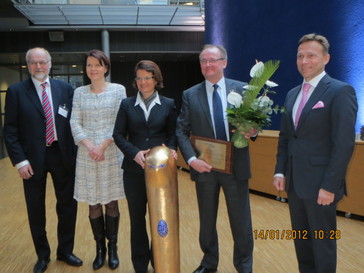 På bildet fra venstre:
Petteri Walldén, Raija-Leena Hankonen KPMG Partner, juryleder Marina Vahtola, Chair of the Year 2012 Antti Herlin, Timo Ritakallio, Ilmarinen.
Jurymedlem Simo Palokangas var ikke tilstede.
Business magasinet Talouselämä dekket begivenheten med 8 sider.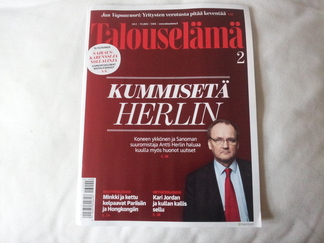 Næringsavisen Kauppalehti dekket begivenheten, les på finsk her.
Artikkel i Helsingin Sanomat, les på finsk her.
Juryen gjorde evalueringen sammen med Heidrick & Struggles.
Prisen ble gjort mulig ved økonomisk støtte fra Hovedpartner KPMG og partner advokatfirmaet Merilampi.
Tidligere vinnere har vært:
2011 - Petteri Walldén, Nokian Renkaat Oyj
2010 - Jaakko Rauramo, Sanoma Oyj
2009 - Risto Siilasmaa, F-Secure Oyj
2008 - Marcus Borgström, HKScan Oyj
KONE is one of the global leaders in the elevator and escalator industry. The company has been committed to understanding the needs of its customers for the past century, providing industry-leading elevators, escalators and automatic building doors as well as innovative solutions for modernization and maintenance.
January-December 2012: Strong overall progress and a record high cash flow
- In January-December 2012, orders received totaled EUR 5,496 (1-12/2011: 4,465) million. Orders received grew by 23.1% at historical exchange rates and by 17.4% at comparable exchange rates. The order book stood at EUR 5,050 (Dec 31, 2011: 4,348) million at the end of 2012.
- Net sales increased by 20.1% to EUR 6,277 (5,225) million. At comparable exchange rates it increased by 15.2%.
- Operating income was EUR 821.3 (725.1) million or 13.1% (13.9%) of net sales, excluding the EUR 37.3 million one-time cost related to the support function development and cost adjustment programs. Operating income, including the one-time cost, was EUR 784.0 million.
- Basic earnings per share was EUR 2.35 (2.52). The comparable basic earnings per share excluding one-time items was EUR 2.46 (2.30).
- Cash flow from operations before financing items and taxes was EUR 1,055 (819.8) million.
- In 2013, KONE's net sales is estimated to grow by 5-9% at comparable exchange rates as compared to 2012. The operating income (EBIT) is expected to be in the range of EUR 840-920 million, assuming that translation exchange rates do not materially deviate from the situation of the beginning of 2013.
- The Board proposes a dividend of EUR 1.75 per class B share for the year 2012.
Intervju av:
Antti Herlin og tidligere vinner Petteri Walldén, Nokian Tyres i Kauppalehti (DN i Finland), se link