Jari Paasikivi
Chair of the Year 2013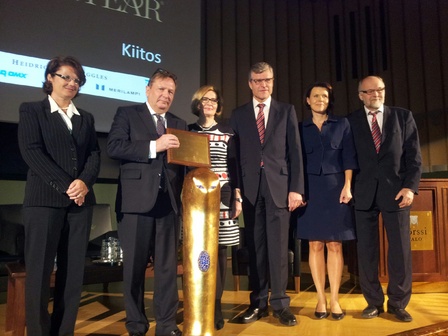 From the left: Chair of jury Marina Vahtola, Chair of the Year 2013 Jari Paasikivi, Minister Paula Risikko, Simo Palokangas, Raija-Leena Hankonen KPMG Partner, Petteri Wallden.
Uponor Corporation's Jari Paasikivi was awarded today, " the 2013 Chairman of the Board ." The award
handed over by the Health and Social Minister Paula Risikko at the Chair of the Year 2013 seminar:
Opportunities and ways to boost growth in Finland. The prize-winning elected President of the
Finnish listed companies.
Chair of the Year is a Nordic award, which is given annually in each of the Nordic countries to
the best listed and unlisted company's Chairman of the Board and further selected from among those: Nordic Chair of the Year 2013.
The Nordic Prize will be announced 30th of January.
Jari Paasikivi award is based on his actions in Uponor Corporation's Board of Directors.
Uponor's Chairman and sustainable development in the construction and environmental engineering business, which have been particularly demanding an industry in recent years. As Chair he secured Uponor's strategy and business reform,
the company's competitiveness and promotion in Finland and abroad. A special reward
Paasikivi is based on the long-term operations of the Finnish industry, which is valuable for
Finland's future. Jari Paasikivi valued business influence , the opinions have been widely clout in Finland. He is currently Chairman of the Technology Industries of Finland

Uponor Corporation's long-and short -term economic development has been stable and the company's
market value has evolved over the last two years, significantly better than the industry average.
Uponor has developed and expanded its operations under uncertain market conditions, and been able to
to reappear in the traditional sector. Uponor is a reputable company, which also carries a
social responsibility.
Key figures
2010
2011
2012
Net sales, MEUR
749.2
806.4
811.5
Operating profit, MEUR
52.4
35.4
57.7
Shareholders' equity, MEUR
252.1
212.1
207.3
Earnings per share, EUR
0.34
0.03
0.45
- fully diluted
0.34
0.03
0.45
Return on equity (ROE), %
9.7
0.7
15.7
Return on investment (ROI), %
14.4
11.0
16.5
Solvency, %
50.8
41.2
41.5

Presently, the yearly remuneration received by the Chairman of the Board equals €71,000, €49,000 by the Deputy Chairman of the Board, and €44,000 by other members of the Board. Approximately 40% of the remuneration is to be paid by acquiring Uponor Corporation's shares in public trading and the rest in cash. The travel expenses related to Board meetings are paid according to the company's travel policy.
January- September
reported net sales totalled €668.4 (621.9) million, a change of +7.5%
Reported operating profit was €54.0 ( 47.5) million, up13.6%
Earnings per share amounted to € 0.41 (0.35)
Return on investment was 17.9% (18.2%), and gearing 45.8 (58.3)
Cash flow from business operations came to €41.5 (2.1) million
Until 30 June 2013, Uponor's infrastructure business was consolidated in Uponor
Corporation as a separate segment, Infrastructure Solutions. From 1 July 2013
onwards, the segment is called Uponor Infra.

Finnish Chair of the Year 2013 event and the Jury was chaired by Marina Vahtola,
Simo Palokangas, the 2011 Chair of the Year, the Chair of Nokian Tyres, Petteri Walldén
and KPMG 's Managing Director Raija-Leena Hankonen . The Chair of the year 2013
project has been possible by the NASDAQ OMX and KPMG with additional partners
Heidrick & Struggles and Merilampi.

Contact Chair of the Year 2013: jari.paasikivi (at) orasinvest.fi
For further information, the chair of the jury Sari Lounasmeri , +358 503 725925