Winner 2020 Isabelle Welton, Zurich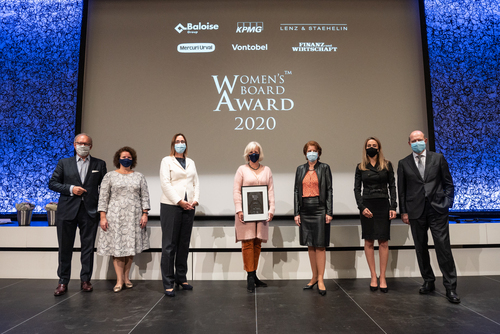 (Zurich/Oslo | November 10, 2020) From left Hans-Kristian Hoeysgaard, Wanda Eriksen, Cornelia Ritz Bossicard, Winner, Barbara Rigassi, Marie-Noelle Zen-Ruffinen, Valentin Vogt.

The Women's Board Award was presented in Zurich this Tuesday night. The six-member jury thus demonstrates that Switzerland has a huge potential of experienced female board members who, due to their competence and track record, are highly qualified for the position of Chair of the Board. Nevertheless, there are still too few women in these Board Chair functions, according to Barbara Rigassi, Jury Chair, who holds a doctorate in economics from the University of St. Gallen and is herself a member of various Boards of Directors. The jury presented this year's award to Isabelle Welton, who has already proven her leadership experience in international companies as a board member in leading, listed Swiss companies.

Isabelle Welton has been a member of the Neue Zürcher Zeitung Board of Directors since 2013. Since then, two further mandates have been added, one for the real estate and mortgage service provider Avobis Group and the other for the pharmaceutical supplier Siegfried Holding. Jury Chair Barbara Rigassi at the award ceremony: "Isabelle Welton considers the key task of a Chair of the Board of Directors to be the cultivation of culture and maintaining trust in the Board. It's clear to her that being the Chair of a Board of Directors requires a great deal of time, also because she is convinced that this function can only be executed well if one spends time to listen and to shape".
Winner Isabelle Welton: "Diverse boards perform better: They have healthier debates, take better decisions, reflect the real world, and set a powerful example within the entire organization. If a Board is able to draw on the experiences from a truly diverse set of capabilities and backgrounds, it enhances the performance of the company and improves its reputation." The jury emphasized that all three finalists have proven experience as board members and a track record in senior management positions in large corporations. This puts them in an excellent position to serve as Board Chair in the near future. The nominees for 2020 also have in common that they all hold at least one mandate in the pharmaceutical industry:
Dr. Karen Huebscher: Since 2012 Member of the Board of Directors Tecan Group Ltd. I 2013-2014 Member of the Board of Directors of Solvias AG I Since 2014 CEO of Solvias AG

Dr. Claudia Suessmuth Dyckerhoff: Since 2016 Member of the Board of Directors F. Hoffmann La Roche I Since 2016 Member of the Board of Directors of Clariant Ltd. I Since 2018 Member of the Board of Directors Ramsay Health Care I Since 2016 Senior Advisor McKinsey & Company

Isabelle Welton: Since 2020 Member of the Board of Directors Siegfried Holding AG I Since 2019 Member of the Board of Directors Avobis Group I Since 2013 Member of the Board of Directors Neue Zürcher Zeitung I Since 2018 Owner Rubidia GmbH Norwegian Gunnar Eckbo founded the Women's Board Award in Scandinavia, where it was first presented in Norway (2010) - followed by Sweden (2012), Denmark (2014), Finland (2016) and since 2019 in Switzerland. "We strive to encourage and empower more qualified women to serve on boards of directors or to serve as their Chair".
Contact:
christian.schaffenberger@mercuriurval.com
Founder: gun-eckb@styreinfo.no
Media: anja.kroll@boldtpartners.com